K-Home house is developed from traditional house,it is the environmental friendly product.It's made of steel structure and sandwich panels for wall and roof,including EPS,rock-wool,fiber glass wool and PU sandwich panel for options.For steel structure,much steel can be reduced,and for building,it is easier to be built than K house.Due to the reasonable cost and convenient building,T house has been more and more popular for farming and mining.They have been widely designed for warehouse,big office,labor camp and management accomodation.Besides, T type house could be decorated inside and outside,so that the whole house looks nice and elegant. These houses are quite suitable for low-income urban residents,and government temporary projects.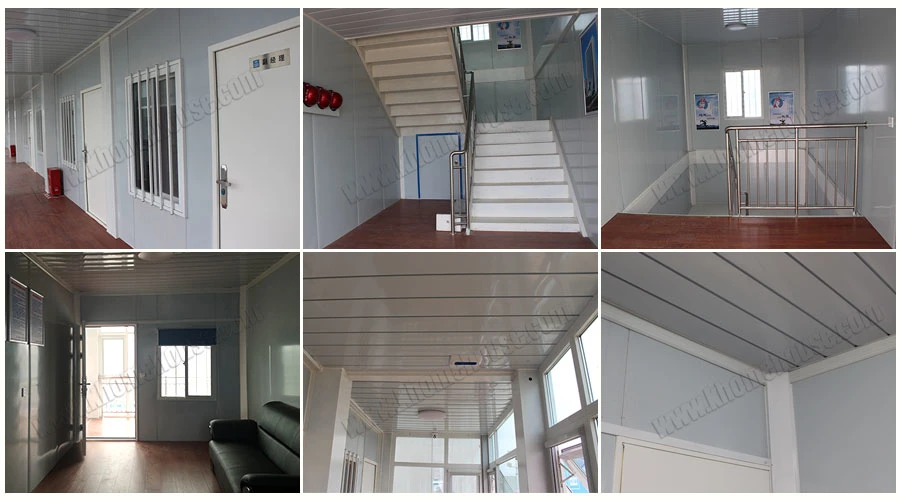 No.

Sort

Name

Specification

1

Specification

length

Customized

2

height

Customized

3

width

Customized

4

Standard accessories

wall

75mm rockwool panel, 0.42mm/0.42mm, 120kg/m3

5

roof

75mm rockwool panel, 0.42mm/0.42mm, 120kg/m3

6

door(d-1)

800mm*2000mm SIP door with cylinder lock and 3 keys

7

door(d-2)

750mm*2000mm SIP door with cylinder lock and 3 keys

8

window(w-1)

930mm*1200mm pvc sliding window with flyscreen

9

window(w-2)

930mm*600mm pvc sliding window with flyscreen

10

channel

u shape channel, 75mm*50mm galvanized steel

11

post

c-shape painted steel / galvanized square steel

12

roof beam

c-shape painted/galvanized steel

13

purlin

c-shape painted/galvanized steel

14

optional accessories

false ceiling

calcium silicate board/ pvc ceiling

15

flooring

laminated flooring/pvc flooring sheet/flooring tiles(for 1st floor only)

16

drainage& plumbing

can offer plan and construction

17

electricity

can offer plan and construction

18

technical parameter

furniture

can offer various furniture if needed

19

bearing load

50kg/m2

20

windo pressure

0.5kN/m2

21

fireproof

A1

22

resitant temp

-20'C ~ +50'C

23

resistant earthquake

7 fission activate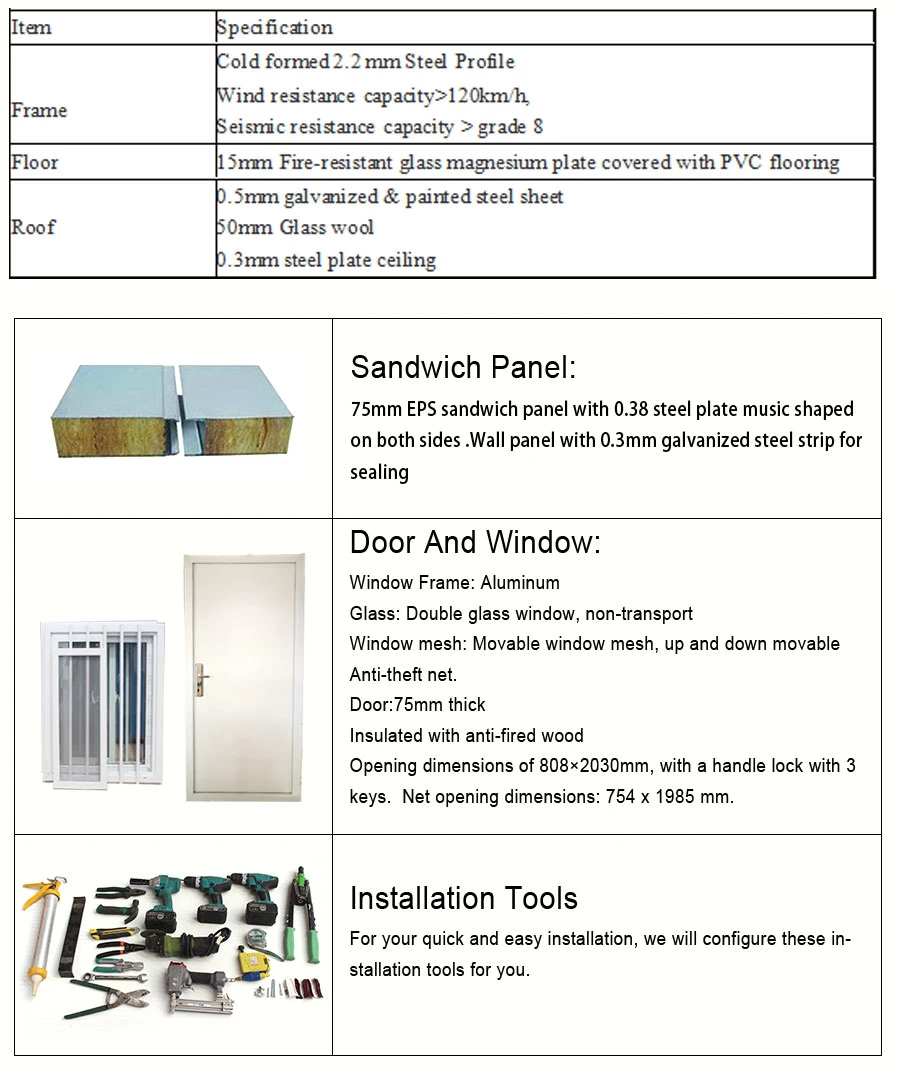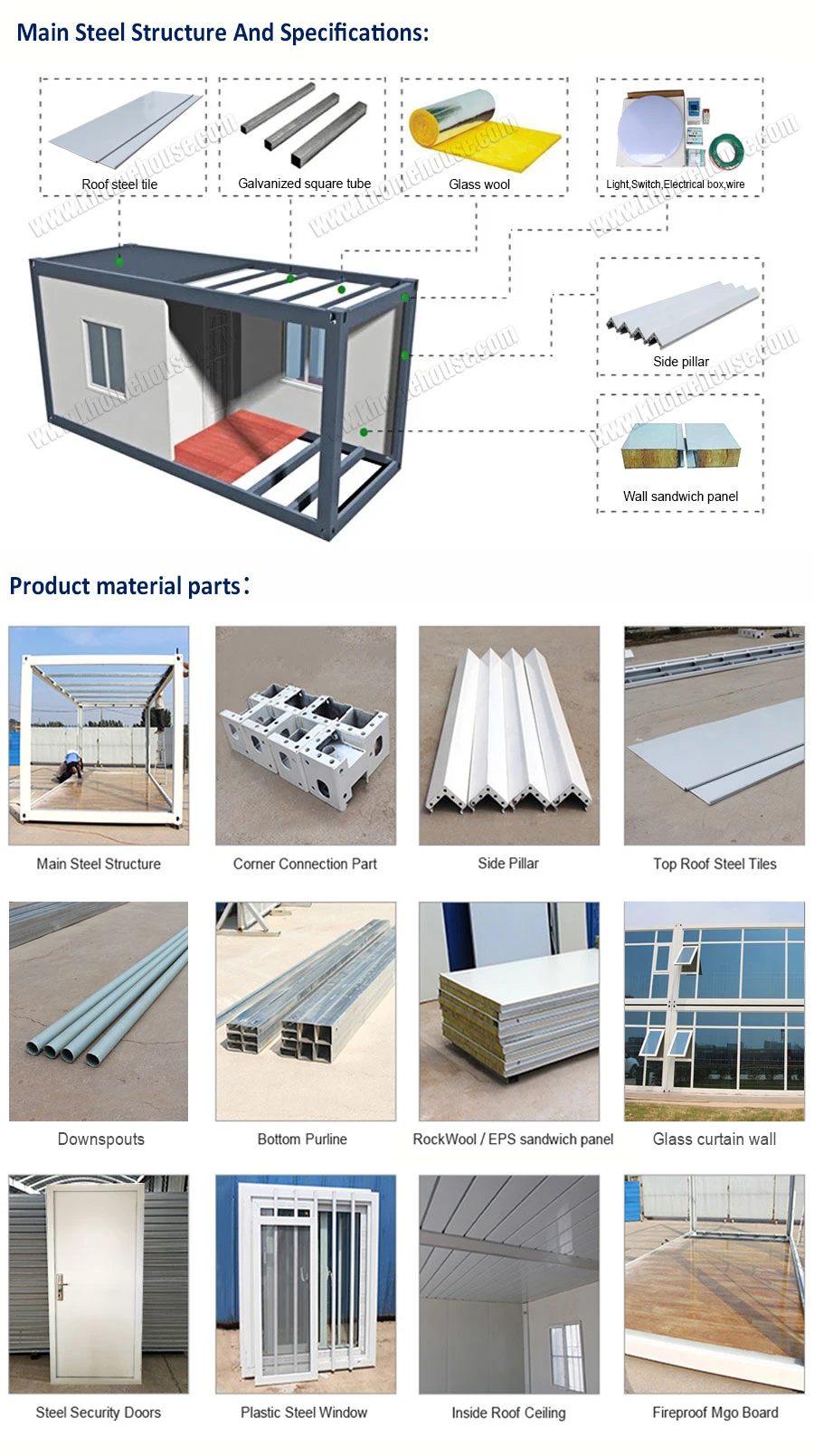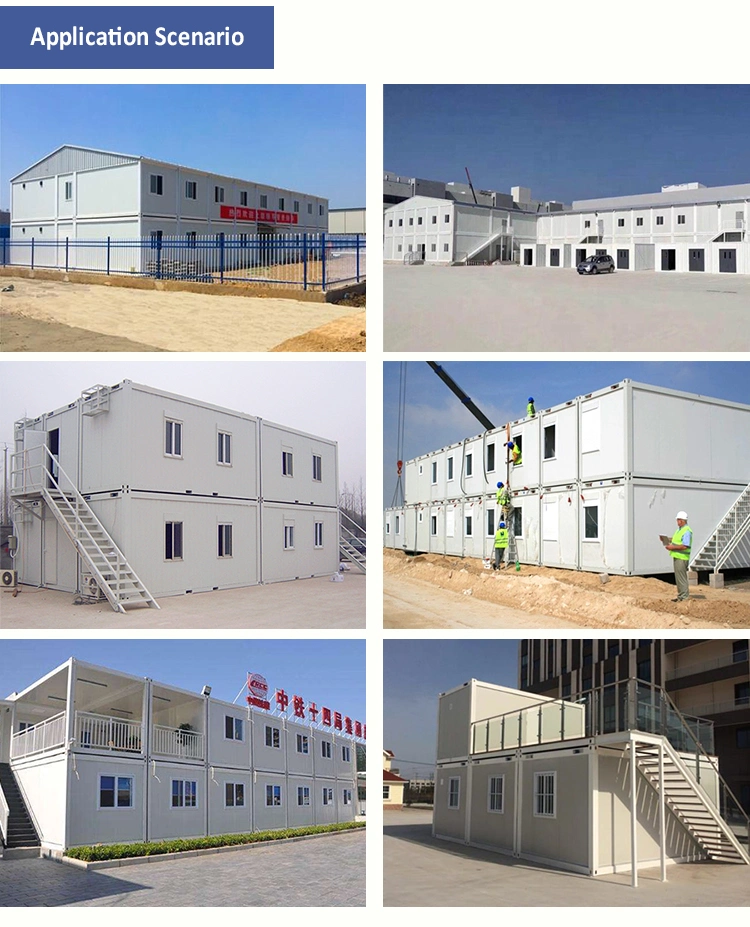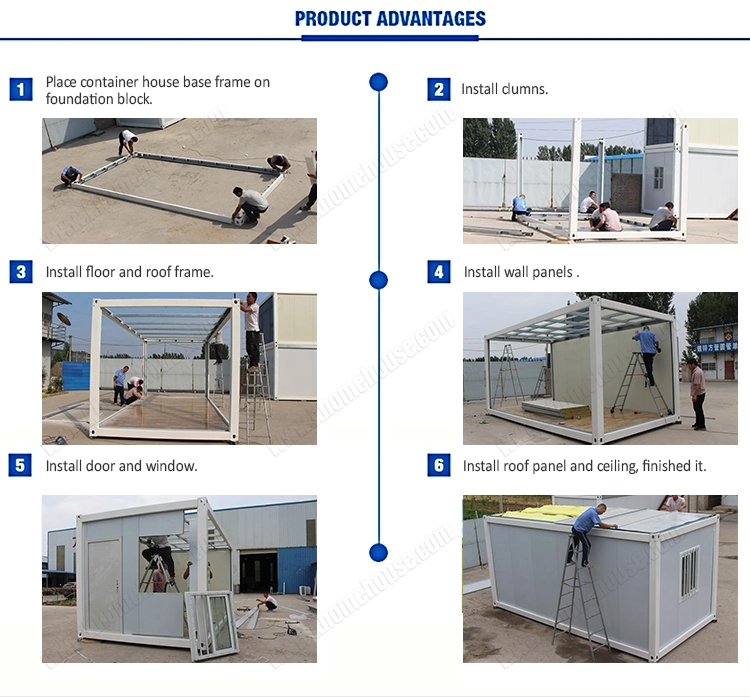 1. Reliable Structure
Our house using the light steel and the flexible structure. They are more reliable and safer,can make it to meet the design criteria based on the construction requirements.
2. Easy & Quick Assembly or Dismantling
All the components of prefabricated house are modular manufactured in the factory. No need to cut or weld on site. Can be assembled and dismantled with simple tools and multiple times. One unit of 18sqm prefabricated house can be built up in four hours by two labors.
3. Flexible Design
The doors and windows can be fixed in random position. Interior partition can be arranged in any position on the transverse Direction.
4. Long service life
All the light steel construction has been painted or galvanized, it is highly resistant to corrosiveness. Could be used more than 20 years.
5. Environmental
The prefabricated house is pre-made in factory, would not produce construction rubbish when installation and disassemble.
6. Resistant weather conditions
Our prefabricated house could suit stringent weather conditions. Standard wind load is 100 km/h, floor load is 200 kg/m2, roof load is 30 kg/m2. We accept OEM designs, also.



FAQ:

1. How can the products adopt to different climates)?
Strong wind region: improve the wind-resisting ability of the internal structure.
Cold region: increase the thickness of the wall, or use good insulation material, improve anti-pressure ability of the structure.
High corrosion region: use corrosion resistant material, or paint anticorrosive coating.
2. How long is the delivery time?
Regularly 7-15 days, this depends on quantity and products.
3. How can I get quotation of the projects?
If you have drawing, we can offer you quotation according to your drawing.
If you don't have, our engineer will design drawing for you to confirm and then offer you a quotation.

After sales service

K-home promises after sales service promises to provide after-sales service and maintenance for customers

Provide customers with detailed usage and maintenance manuals

Quality problems occur during using, communicate and solve actively

Committed to building a global network, better service for customers

Regular return visits and maintenance to customers